Weaving in Bridgnorth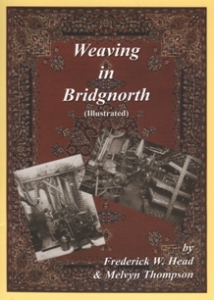 UPDATED EDITION
1st Edition : 1947 by Frederick W. Head / 2nd Edition : October 2004
ISBN : 0 9529937 4 0
Pages : 74
UK RRP : £8.50
An illustrated book about the weaving industry in and around the Bridgnorth area. Originally written by Frederick W. Head and published in 1947. Now in its second edition, Melvyn has brought this book right up to date, with two new chapters, complete new layout and a colour sleeve. It is an essential piece of local history.
In four sections the book records the history of "The Friers", the town's weavers, the post war boom years and the end of an era when weaving ceased in Bridgnorth.
Part I - "The Friars" and its memories - Frederick W.Head
a) The Old Grey Friars
b) The Friars Carpet Works
c) The Friars Social Gatherings
• A carpet factory is established on land originally belong to an order of Franciscan Monks.
• The principle weavers were members of the Southwell family and they became Freemen of the Borough.
• The families MacMichael, Grierson and Saloway are also involved in carpet weaving.
• A limited company is formed but there is a disastrous fire and a ghost makes an appearance.
• The company expands and the ladies make a hand-knotted carpet for Queen Victoria.
• The names of many of the employees are listed particularly those with a long service.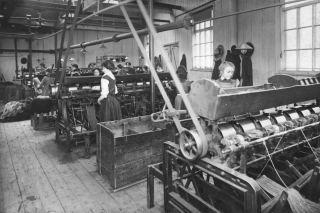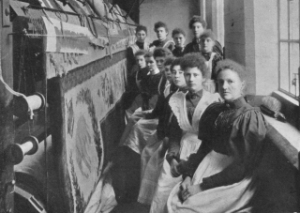 Part II - The History of Weaving in Bridgnorth - Frederick W.Head
• A paper presented to the Bridgnorth & District Historical Society on 2nd December 1946.
Part III - The Postwar Boom Years - Melvyn Thompson
• Wartime in the carpet industry brings other priorities and products.
• With the end of the war approaching the Southwell company changes hands.
• The boom years of the 1950s bring prosperity for all. The town also benefits.
• New products are introduced as new markets open up.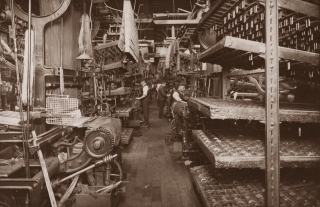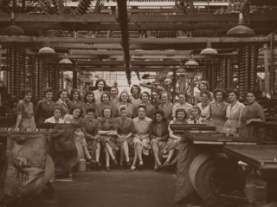 Part IV - The End of an Era - Melvyn Thompson
• A general decline in carpet production brings rationalisation and redundancy.
• The holding company closes the factory and the "The Friars" become a housing development.