About The Author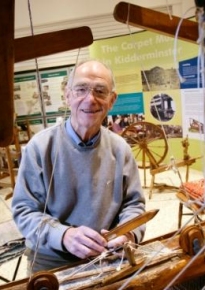 Melvyn Thompson C.Eng MIMechE
Melvyn was born in Kidderminster in 1937. His father was a carpet loom Tuner and well respected within the industry and it was inevitable that a career in the local carpet industry awaited him.
After qualifying at technical college he became an engineering apprentice at Carpet Trades Ltd. in Mill Street. At the time they were one of the establishment companies. To further his experience he left the town to become a Design Engineer for British Nylon Spinners [Bri-Nylon] in Pontypool. During this time he was involved in the development of machinery for processing man-made carpet yarns.
After five years he took the opportunity to return to Kidderminster rejoining Carpet Trades as Project and Development Engineer. His responsibilities increased as the company grew to become Carpets International and eventually part of the Coloroll empire which failed in 1990. For the last ten years of his working career he was Brinton's Project Engineering Manager.
Melvyn is married with a grown up family and grandchildren. He retains an interest in all forms of sport and is a Life Member of Worcestershire County Cricket Club. He joined St.George's Church Choir as a seven years treble in 1944 and is still an active member.
Now retired, he spends much of his free time as a volunteer at the Museum of Carpet where he is their Historian and Vice Chairman of the Friends organisation. History is his passion and he has collaborated with others and written many articles and also published five books with local themes.
Copies of his books have been sent to all parts of the world.